IN THIS MASTERCLASS, YOU
WILL LEARN: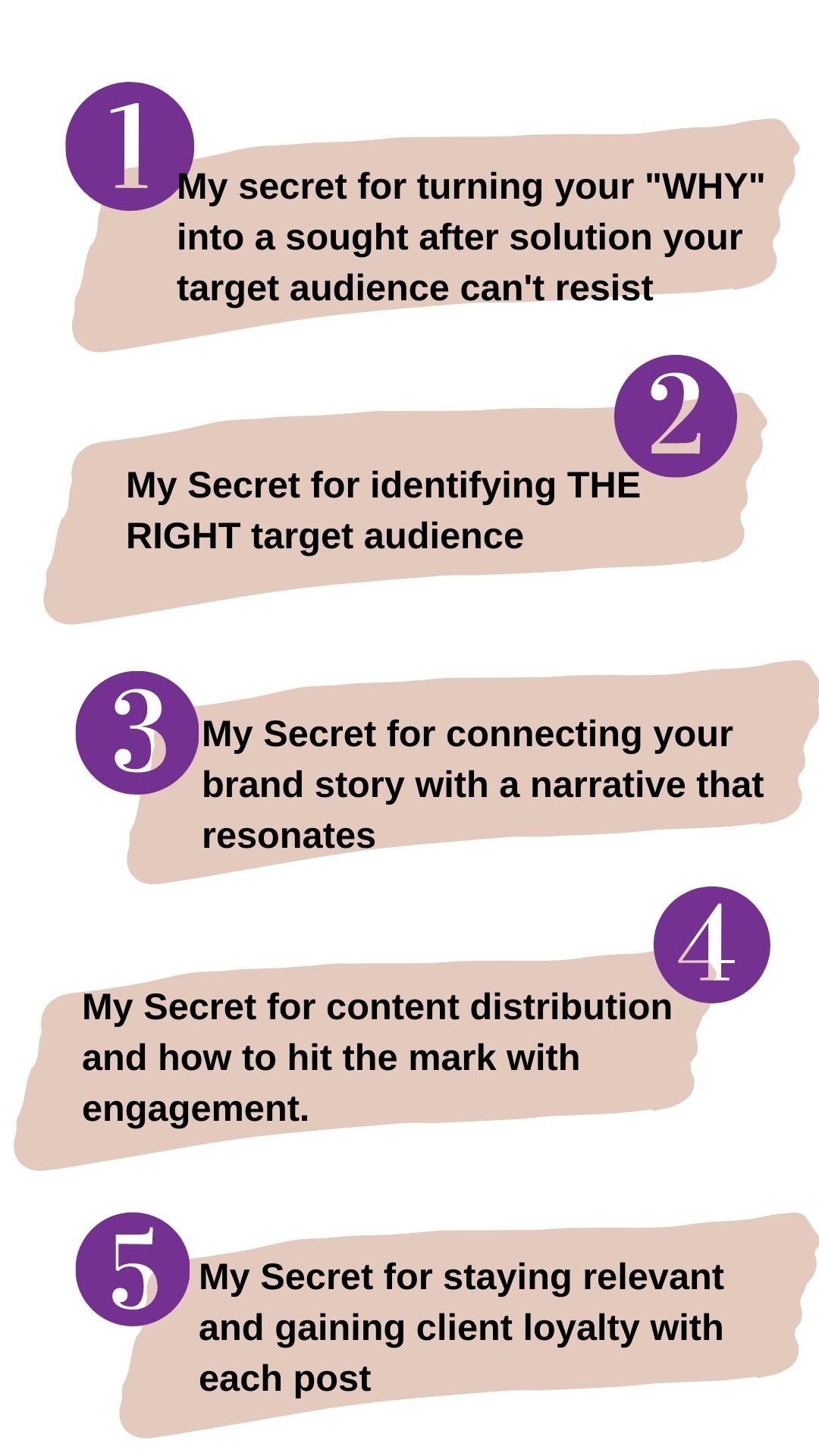 DO YOU FEEL LIKE...
You're spinning your wheels with social media, Facebook Ads, and the like? 

You can't reach your audience?

You have NO IDEA how to create a converting marketing campaign?
With all of the noise, you know you have to be different but you don't know how.  
YOU'RE NOT ALONE!
If you want the secrets to DOING SOMETHING DIFFERENT that's simple but effective, keep reading….
I'll be teaching a
FREE MASTER CLASS
about  "How To Create Effective Marketing Strategies Guaranteed To Grow Your Business: With My 5 Secrets Those Strategies DEPEND ON!"
If you haven't saved your seat yet,
make sure you do it NOW...
A NOTE FROM ANDREA (THE MARKETING & PERSONAL BRANDING STRATEGIST WHO'S GONNA MAKE THE MARKETING MATRIX EASIER TO NAVIGATE)...
As a marketing expert who specializes in authentic marketing and personal brand development, I get REALLY excited to show off the impact my tested and proven strategies have had on my clients. Their businesses are thriving and growing because of the secrets I'm sharing during this master class..
Having gone through my own personal battle with uncertainty, lack of confidence, and impostor syndrome, and a very small budget...I know what feeling discouraged can do to you.  That said, I've been able to show my clients how to use marketing as an extension of who they are to grow their businesses.
WHAT THEY ARE SAYING...
Nick said,
"Oh. My. God!! I always wondered how people came up with such great social media content.."
Katrina said,
"Even when I had to pivot in my business, your tips and techniques STILL worked.  I Love it!"
I know this training will help you achieve your goals, stop spinning your wheels with marketing strategies, and create powerful marketing campaigns that convert your prospects into buyers. You'll discover how to make more money without feeling fake and salesy.
Don't miss this master class. Using these 5 secrets, I'm confident you will walk away with the clarity and certainty you need to take actionable steps toward your goals.
OH YEAH... DID I MENTION MY FREE GIFT?
If you're like me, working with clients is the EASY part... It's getting all of those ducks in a row for an effective sales funnel...RIGHT?!  Well, worry no more. For those who show up LIVE for this webinar, I'm sharing something SPECIAL. 
THE SALES FUNNEL STARTER KIT: Templates, samples, tools, and more to help you create amazing workflow for your sales process. 
Don't delay .... You'll be glad you learned these secrets and be prepared for the business that comes your way.  Don't wait ANY LONGER! Now's the time to CLAIM YOUR SEAT for this FREE Master Class...