So many people struggle with the idea of "having a passion".  For some it's was easy as punch to figure out what their passion was and for others, the struggle is real.  Hearing someone say, "when you're doing what you love it never feels like work", but you've yet to determine what that "thing" is you LOVE, it could leave you feeling discouraged.
I'd like you to imagine for a second, the possibilities that open up when you shift your perspective a little.  In today's episode, I'm interviewing Laura Alotaibi, owner of Venues 'N More.  She's sharing her path to purpose as she walks us through her entrepreneurial journey.
In addition to being the founder of Venues N More (.com), she is also the host of Party Planning Radio podcast.  Tired of the hassle of booking birthday parties, Laura traded in her teaching career for a career in party planning!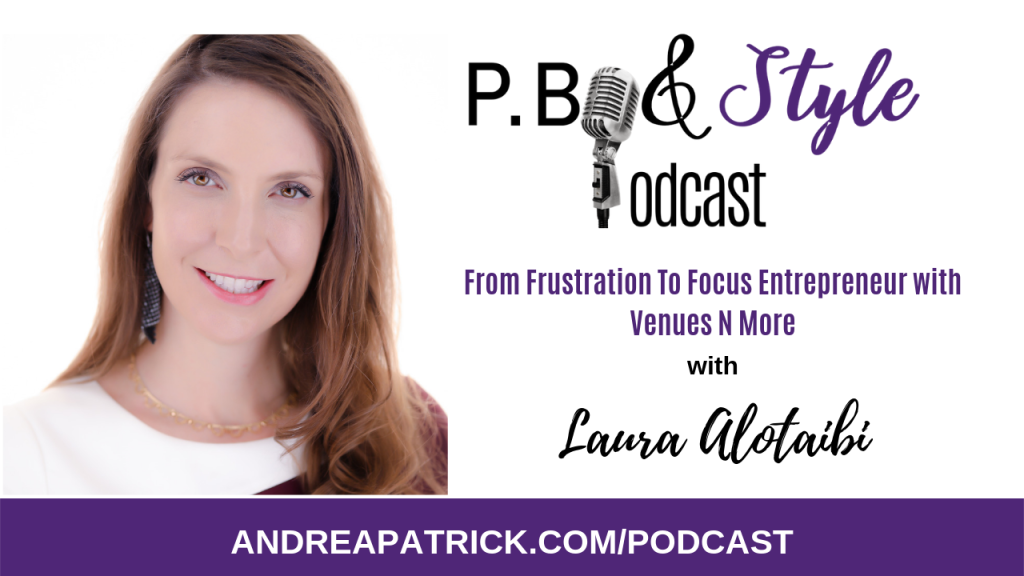 In this episode, you'll hear:
How Laura shifted her perspective and used her passion in an unexpected way to monetize her brand
What steps she took to overcome her fear
The value of understanding your customers pain points
How Laura Uses her personal brand to gain exposure for Venues N More
How Laura used my "5F's Stages For Future Success" to build her business
How to turn frustration into focus and intention
Also, pay close attention  see to if you can figure out when Laura is talking about one of the stages of (what I'm calling) "The 5F's for future success".  During this interview, Laura will talk about all of the following:
Frustration
Filtering
Formulation
Fruition
Focus
After you listen to our interview, leave a comment below telling us which stage of The 5F's For Future Success you think you're in.
>>NEED A LITTLE MORE HELP GETTING STARTED WITH YOUR BUSINESS IDEA?<<

Join the others who've found the answers they need traveling down HWY 8 with me.  This is a 4 day video series that includes worksheets to help you answer the less obvious questions that need introspective answers.  You'll be able to build a solid foundation for your business and understand what YOU need to create those Circumstances for Optimal Success, I always talk about.
CLICK TO FIND OUT MORE ABOUT LAURA & VENUES N MORE
---
Like what you heard? I'd appreciate it if you would head over to iTunes and/or Spotify to leave a review.