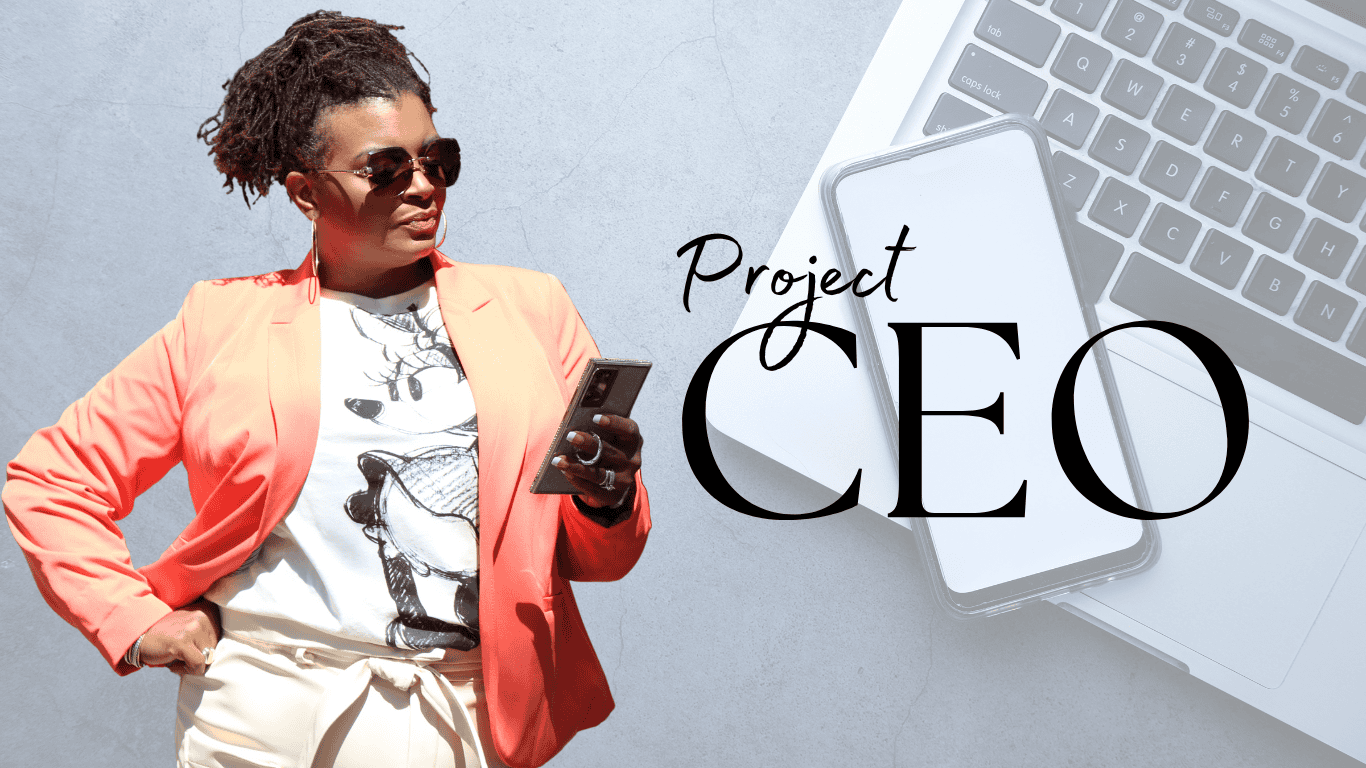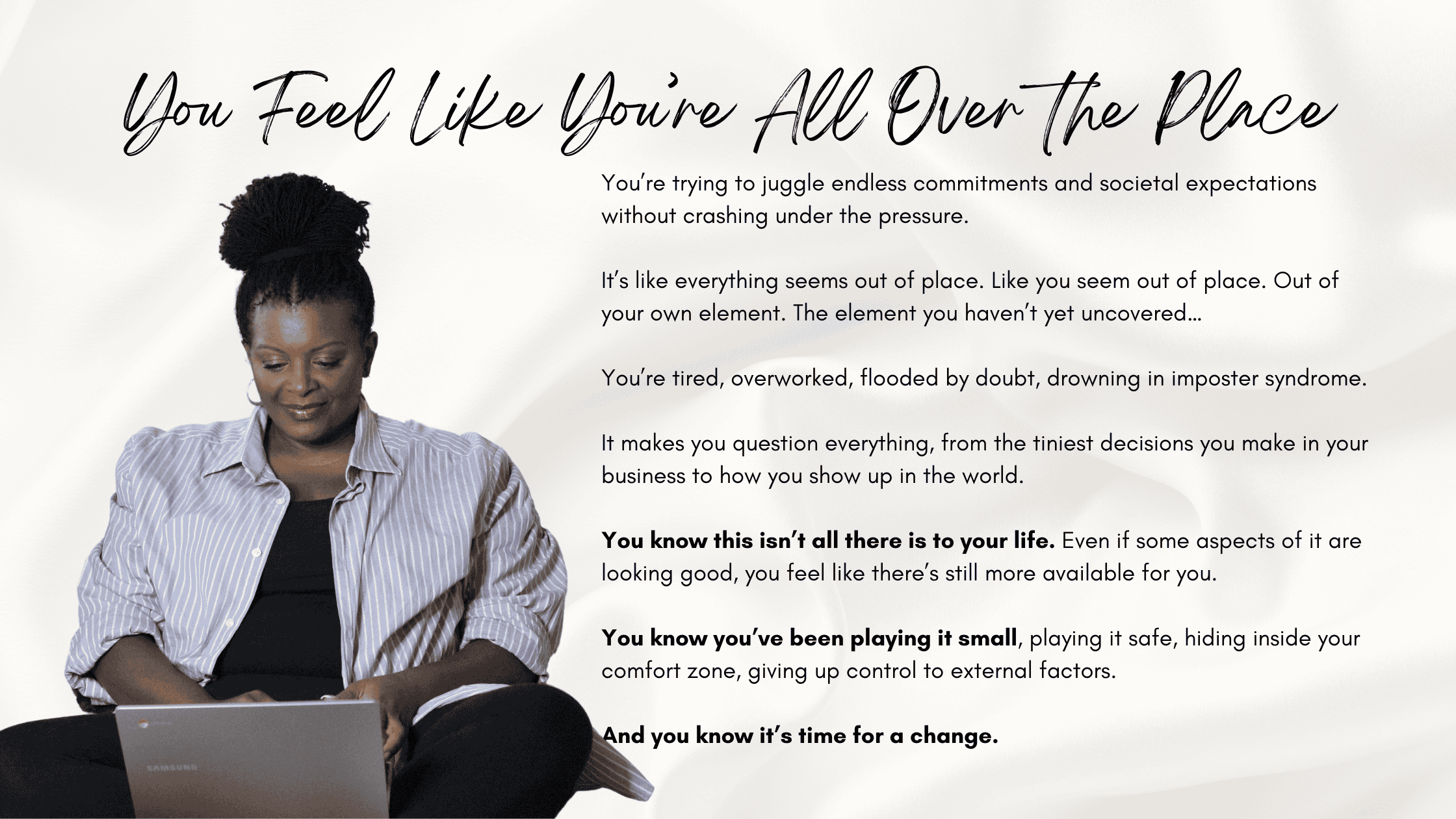 What If 18 Weeks From Now, You Could Reclaim the Power Over Your Circumstances?
Imagine what your life would be like if you no longer: 
Doubted your every move & decision, feeling like an imposter.
Put other people's expectations of you before your own.
Felt like you're living out of alignment with your values. 
Struggled to say "no" and set healthy boundaries.
Felt overwhelmed by… well, everything.
Apologized for being you.
It would feel amazing, wouldn't it? You'd feel like you can do anything, like a hidden world of possibilities you haven't noticed before has suddenly flung its doors open for you. I've been there - and I know it's the best feeling ever!  
So, are you ready to get out of your own way and become the CEO of you? 
In 18 weeks,
I'll help you free yourself from expectations, doubts, and limiting beliefs that have been holding you back for too long. 
This program arms you with the missing link you haven't been able to find anywhere else. And because of this, you'll finally be able to step out of fear and uncertainty and into alignment. 
---
What My Students Are Saying About This Program
The program made me think -- about my personal style thread, how I'm showing up, my super powers, and so much more -- and in thinking about those areas, I have a more clear understanding of areas where I need to focus as I look to take control of my life. If you are working to reinvent yourself, this course is the tool you need to help you fill in the blanks and make it happen.

Tiffany E.

This program allowed me to evaluate some root issues in my past and build strong communication and awareness to be able to see the meaning of where my passion is high in my priority and how to use this gift to motivate me is different seasons.

Delanna H.
PHASE 1: Claiming Your Uniqueness
In Phase 1 of the program, embark on an introspective journey as you unpack personal baggage, learn from the lessons in your past, and reframe the way you approach life. 
Create your

Personal Matrix

, 

Develop your

Personal Framework

, 

Learn to manage your

emotions & reactions

.
By the end of this phase, you'll have reclaimed your value and tapped into what makes you unique.
PHASE 2: Establishing Your Role
In Phase 2, you'll discover the motivators that drive you toward change. You'll trace your transformation back to an epiphany moment and follow your epiphany journey to embrace your most authentic self. 
By the end of this phase, you'll have laid the ground for systems and structures that guide everything you do with intention and purpose.
PHASE 3: Laying a Rock-Solid Foundation 
In Phase 3, you'll explore the vital elements of success. Discover how your habits, mindset, and more play a crucial role in shaping your path to success. 
By the end of this phase, you'll have learned how to build a strong foundation for your journey toward achieving success through intentional habit forming & goal setting.
PHASE 4: Staking Your Claim
In Phase 4, you'll learn how to use what you've uncovered about yourself to calibrate your personal style & communication approach to your personality type. You'll learn how to leverage your personal brand to communicate your needs more clearly and teach others how to treat you. 
By the end of this phase, you'll have learned how to become intentional with your interactions, stand up for yourself & set healthy boundaries.
PHASE 5: Shaping Your Presence in the World
In Phase 5, you'll shape your presence in the world by uncovering your personal style, creating your narrative, and setting firm boundaries. You'll learn how to embrace your personal evolution and trust your personal framework to make decisions, modify boundaries, and manage expectations with confidence & clarity. 
By the end of this phase, you'll have completed your CEO transformation and created a cohesive self-identity both internally (how you see yourself) and externally (how others perceive you). 
PHASE 6: Accepting Your CEO Status
In phase 6, you'll begin to apply what you've learned in phases 1-5 to the areas of personal style, personal discernment, and personal evolution. 
Being the CEO of your life means… 
Leading yourself and others with confidence. 

Living your life with courage, passion, and curiosity. 

Staying loyal to yourself, your values & your desires.

Having unwavering control of life choices and decisions.

Assessing every situation with critical thinking and discernment.

Being compassionate with yourself, even when you make mistakes.

Understanding your emotions & reactions and learning how to manage them to your advantage. 

Adopting an optimistic outlook on life because you know you can handle any challenge life throws at you.
Hi, I'm Andrea!
A mother of three gorgeous daughters, a wife to an amazing man & a serial entrepreneur.
Although I have over 25 years of experience creating marketing strategies that work, my true passion lies in helping women become their most authentic selves and architect their success in all areas of their lives: from their careers and businesses to their relationships and family life.
Through my own self-discovery journey, I've learned that we must first connect with ourselves to connect with others.
I've learned that true leadership requires the ability to influence, and that ability requires self-knowledge and confidence. The answer to many of life's challenges lies in the personal journey one must take to discover their truth.
By reverse-engineering my own journey and that of many other women, I was able to develop my signature program - The Project CEO - that empowers women to become the CEOs of their lives. Confidently and unapologetically.
I'm about to take you on a transformative journey of getting to know yourself, unlocking key lessons about yourself from your past, and shaping the most
authentic version of yourself on all fronts.
Are you in?
---
More Of What My Students Are Saying About This Program
Knowing who we are takes some serious introspection. To the point that I haven't wanted to do it. Coming into this course, I didn't realize that was going to have to happen in order to work through becoming the CEO of my life. From the very first lesson I knew that I was going to have to deep dive into how I got to where I am; who I've become. Apparently, though not all of my life has been sunshine and roses, it has all converged into Me. Now, I know that I have been carrying things around, listening to the tape in my head replaying negativity, and self sabotaging things unintentionally. After the course, I can be unapologetically Me. I can leave behind what I don't need in my life, play a new tape, and intentionally present myself as Me.

Zoe M.

One of the top things I can say is that the trainings rock! When I took the first program you ran I was in a place that it felt hard to answer the questions but once I did it was learning to thrive from what caused me pain for years ! I love the fact that this is based on self awareness because untilYou find what shaped you you cannot grow in anything especially business!

Cynthia T.
AT THIS POINT, YOU MIGHT BE THINKING… 
This Is Great! But How Much Is It? 
Creating a framework for personal change isn't easy. 
It's not as simple as coming up with a marketing strategy or a step-by-step start-your-side hustle program. 
To do this, I had to reverse engineer not only my own journey but also that of other people who went through a similar transformation.
I've talked to many of my past students and gathered all the insights I could get to come up with the most efficient framework for personal change.  
I have invested countless months – years, even – into creating this program. It sums up everything I learned on my growth journey… a journey that lasted for years and still hasn't come to an end. 
It took me several years to understand what I'm about to teach you in this program in just 18 weeks. 
Here's What You'll Be Getting
*18+ extra-valuable video lessons 
*3 group coaching calls
*3 Q&A sessions 
*A like-minded community for support
*Lifetime access to all the materials
*A swipe file with templates, exercises & guides
BUT THAT'S NOT ALL
You'll Also Snatch These Bonuses 
(if you're on the waitlist)
Personality 2 Profit Masterclass (valued at $297)
It's time to start running your business on your own terms. In this masterclass, you'll say goodbye to inauthentic marketing strategies that give you an ick and learn how to connect with your audience in a way that's aligned with your true personality.  
Mindset Transformation Guide (valued at $97)
In these X pages, you'll unlock the path to true work-life balance. You'll discover that understanding yourself is key to finding that balance, and you'll learn how to create circumstances for optimal success based on your personal framework - regardless of your situation. 
A Focused Vision Live Workshop (valued at $197)
A guided workshop for those tired of waiting until January 1st to paste pictures on a board and never actually seeing their vision come to life. During this 2-hour live workshop, we'll take a hands-on approach to goal-setting so you know exactly what to do to achieve them aside from staring at your vision board. 
You might have taken similar programs before and felt they were a total waste of your time and money. You might have worked with a 1:1 coach without seeing any real results. 
That's because many programs rely on vague theories without practical instructions for real-life application. But not this one.
That's why in this program, I provide you with hands-on systems and strategies that you can put into action right away. Each lesson comes with practical assignments to work on so you can start seeing real changes as you progress through the modules.  
What I teach in this program has worked time and time again for women who invested in it. That's because I reverse-engineered my own transformation and interviewed numerous women facing similar challenges to create this program. 
I put my heart and soul into my teachings. And if you put your heart and soul into applying the lessons from this program, it'll work for you, too. 
A journey of a thousand miles begins with a single step. 
This is yours.
The Questions You Might Still Have
How do I access the program content?
Once you enroll in the program, you'll receive a welcome email confirming your enrollment. In this email, you'll find your unique login information to access the program content and an invitation to join our CEO Mindset Facebook group, where you can share your thoughts and questions. Each week, I'll notify you about the latest lesson and assignments uploaded to the platform. Before our coaching calls, you'll receive a reminder via email with a link to a form where you can submit your questions for our Q&A session. 
How long is this program?
The duration of the program is 18 weeks. During that time, you'll get 18+ video lessons and tutorials, and we'll have 5 group coaching calls. After the 18 weeks are over, you'll keep access to the program materials forever, so you can revisit them whenever you want. 
What is your refund policy?
I get it. Investing in a program like this isn't always an easy decision. That's why I'm giving you the option to withdraw from the program within 7 days of starting and receive a full refund if you find that it doesn't meet your expectations.
What are the next steps?
After you sign up for the program and make your payment, you'll get an email from me with detailed instructions on what to do next. In the welcome email, you'll find your personal login details to access the video lessons and the invitation to join the Facebook community.
How is The Project CEO different from other programs? 
Most similar programs out there take a generic and vague approach. What makes The Project CEO truly unique is that I've taken a hands-on approach. Instead of just tackling the symptoms of your struggles, I dive deep into their roots - helping you to understand where they're coming from and how you can use your unique superpowers to overcome them. I provide you with actionable systems and strategies that you can actually apply in your life. 
Why invest in a program like this? I can do this myself. 
Investing in a program like this will save you time and frustration. Sure, you can try to figure it all out on your own, but let's be real, it could take years just to scratch the surface, and you might not even find the right answers. Plus, you don't know what you don't know. But with a program like this, you'll have someone who has gone through a similar challenge to show you the way. This program is your shortcut to transformation, helping you bypass the frustrating trial-and-error phase. Instead of being stuck in a cocoon of uncertainty, you'll discover the recipe to break free and emerge as a beautiful butterfly.
I am very busy. Will I have time to do the work?
Absolutely! The program is designed to work with busy schedules. You can watch the video lessons and do the assignments anytime - on a break at work or when having a glass of wine in the evening. Plus, I purposefully made the lessons really digestible and short for busy bosses like you, so you can always find a few minutes to watch them. 
What if I can't attend the live coaching calls? 
No worries! You don't have to attend them all. Plus, all live coaching calls will be recorded, so you'll be able to watch the replay later when it's convenient for you. The coaching calls are an additional tool for you to ask questions and clarify your doubts as you go through the program, but they aren't obligatory. 
I don't like self-guided programs. Will I get 1:1 attention?
You'll get 1:1 attention to some extent during our weekly live coaching calls and Q&A sessions. You'll also have access to our Facebook community, where you can ask questions or share your progress. However, the premise of this program is that it's self-guided.