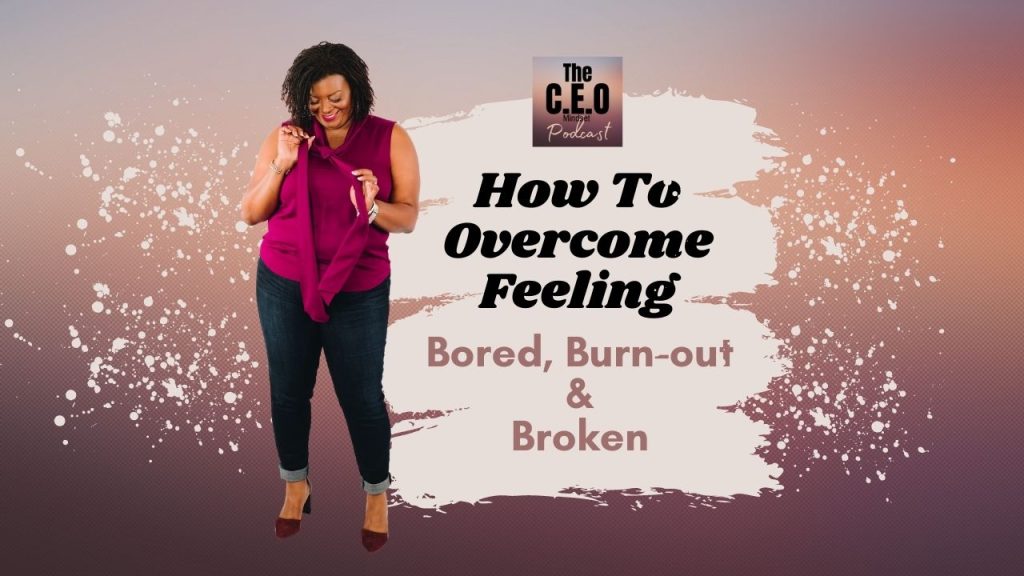 Do you need to overcome boredom, burnout, and feeling broken? I get it.  Covid-19 has us all feeling some kinda way.  Cooped up or bored to death seems to describe a lot of small business owners these days because Zooms have taken over our lives.  Are you experiencing burnout and frustration? The end result of all of this, could be feelings of brokenness.  Don't worry.  I understand these fractured feelings but I'm beginning to see the light at the end of the tunnel.
I imagine you're experiencing a state of emotional, mental, and physical exhaustion brought on by prolonged or repeated stress and that's literally the definition for BURNOUT.  I'm so grateful for the light at the end of this Covid-19 tunnel and I'm planning to hunker down , get FOCUSED and meet my goals.  I have quite a few things I want to achieve in the next 6 months.
In this podcast episode, I dive into how I leverage my personal brand to overcome boredom, burnout, and feeling broken.  It doesn't have to be the daunting task you believe it to be.  It's simply putting the BU in your life and business.
---
Follow the B-U Boss & Let's Get Social:
---
LET'S GET TO WORK:
To get started with a more personalized approach to your marketing efforts I've got TWO very simple, very FREE options:
If you're ready to GET TO WORK… you should:
These tools are full of encouraging and motivating information.  You'll also get tools, worksheets, challenges and more to help you succeed. Either tool would be a great way to learn how to leverage your personal brand with ease.
---
QUESTION OF THE EPISODE:
What do you do to get out of a slump?