Everybody is going digital. Creating products, doing virtual coaching sessions, and hosting online summits are just a few ways people are growing their businesses online.  This week on the podcast, I'm lifting the hood and sharing my secrets to increasing conversions in your attempt.
I have learned SOO much in my own quest to create digital products so I'm going to do for you what I wish would have been done for me.  I'm giving you the MEAT of what I've learned.  Yeah, I could give you the fluff and make it pretty stuff, but that's not what is going to make the difference.  It's the ugly h… hard stuff that REALLY gets the job done.  As I plan this podcast, I came across this article in Inc.com that shares "7 Tactics Guaranteed to Increase Your Conversion Rate"   
By "Ugly…Hard Stuff" I mean the behind the scenes of whatever product/service you're trying to sell.  In this article, the author states  Creating or refining your "Pre Selling" system as being the #1 tactic to increase your conversions.  Trust and believe…. between that and the task of actually building a community, what this podcast covers IS ugly and hard…lol!!!
LISTEN AND THEN TAKE A LITTLE TIME TO MAP OUT YOUR OWN PLAN TO INCREASE YOUR CONVERSIONS!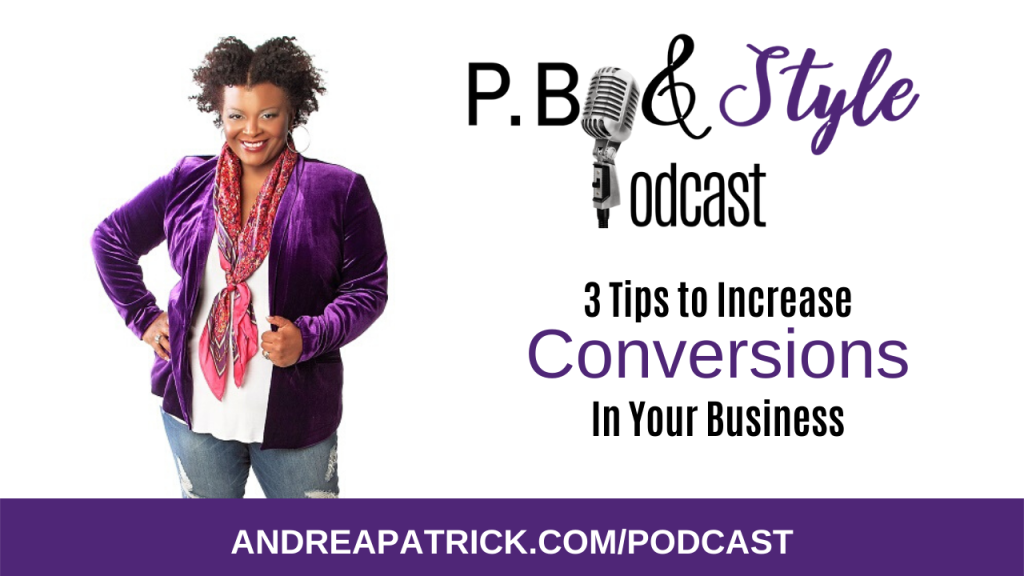 ---
What you'll lean in this episode:
3 Important consequences of engaging your ideal clients
Why TEACHING isn't what you should do to convert
2 Common results of walking in your value
The importance of presenting the RIGHT Call-To-Action the RIGHT way
And More!
---
Never Miss An Episode! 
Join the growing list of listeners finding clarity, consistency, and authenticity in the way they position their business in front of their ideal customer base.  I host my Boss Talk Wednesday inside my Facebook Group, THE BTB BOSS TALK.  Love'n this episode….. Screenshot yourself listening and tag me using #pbandstyle and I'll share it on my story, a little shout out of my own:)
---