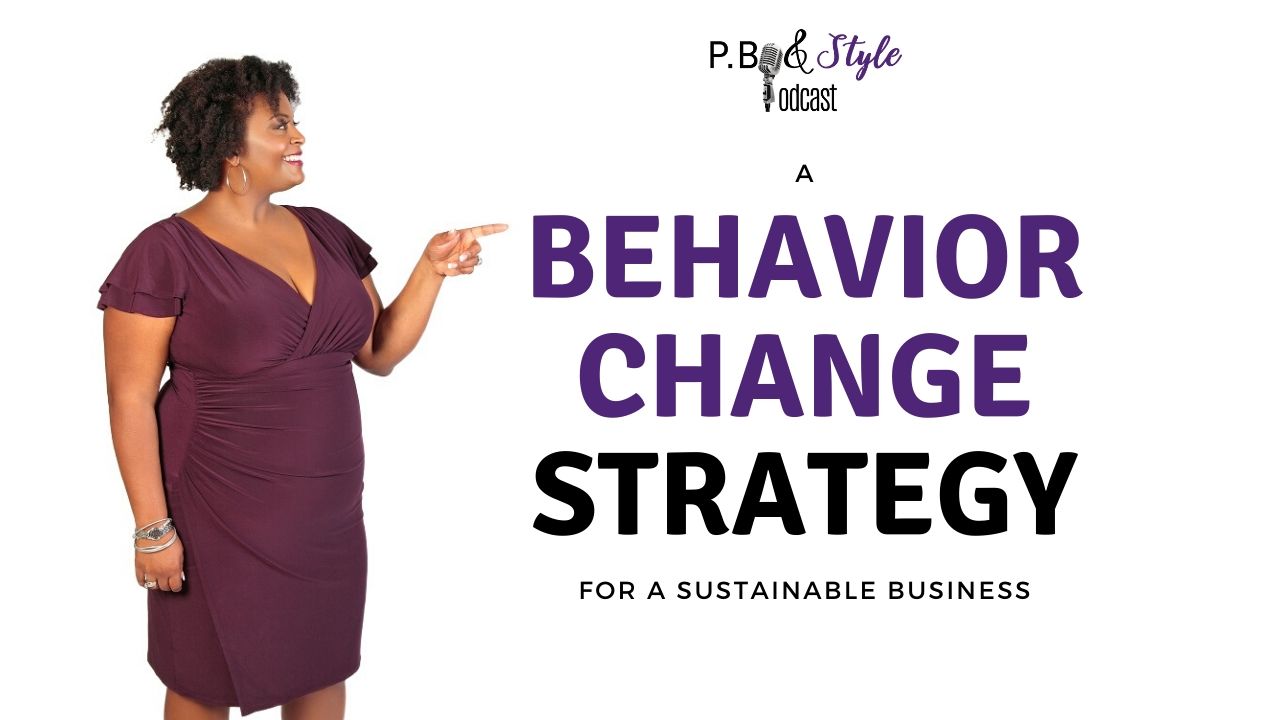 I was recently told I know how to ask the right questions and the person who told me went on to say, "The difference between being a leader and a manager is knowing the right questions to ask". It was one of the highest compliments I've gotten in a long time.  I mention this because lately I've had to ask those I'm doing discovery calls with, the following question: "Are you willing to do something different to get a different result?"  Responses have varied, but ultimately, the fact of the matter was, if they want to survive this social distancing caused by the coronavirus (or any challenge that requires limited contact or limited use of traditional marketing techniques)…. BEHAVIOR CHANGE IS NECESSARY.  I get it.. behavior change is difficult.  Many are set in their ways and have no idea that things could be so much better (or at least different) if they were open to changing their behavior.
In this podcast episode, I'm sharing my behavior change strategy for sustainable business.  If it took a pandemic to open the eyes of small businesses to the amazing potential of the digital marketing, so be it.  Recognition of a problem isn't what solves it. The behavior change to fix the problem is what leads to the solution.
Listen as I share a behavior strategy that uses the personal branding tips and techniques I talk about so much for sustainable business.
---
IN THIS LESSON YOU'LL LEARN:
My 6 Step strategy for behavior change and more!
---
If you loved this podcast episode, you should

LISTEN

to these too:
https://andreapatrick.com/podcast/pbstyle/personal-branding-perspective-why-small-businesses-fail/

https://andreapatrick.com/podcast/pbstyle/believers-mindset/

https://andreapatrick.com/podcast/pbstyle/taolb-diversity/
---
To get started with a more personalized approach to your marketing efforts I've got TWO very simple, very FREE options:
first, I'll be expounding on today's topic inside my Facebook Group, BTB BOSS TALK, so be sure to request access there. I will have the link below in show notes. I definitely want you involved in THAT conversation. That's also where ALL my guests will be popping in from time to time to offer EVEN more tips for you. Quiet a kept, that's where I've also started exclusively sharing my extra goodies and giveaways.
second, you can grab my FREE online Video Series: "Hwy 8: The Road to Your Inner Influencer": https://andreapatrick.com/hwy8videos (NEW NAME/REBRANDING NEEDED) —> The BE THE BRAND Blueprint: a step by step guide to authentic personal brand development with tips for significantly increasing your social media engagement and conversion rates.
If you're ready to GET TO WORK… you should GRAB my book, The BTB Business Journal. It's full of information, tools, worksheets, challenges and more. If you're a self starter and can get thing done on your own, it's a great way to tap into your personal brand then leverage it EVERYWHERE! https://amzn.to/30mQavz
Behavior change