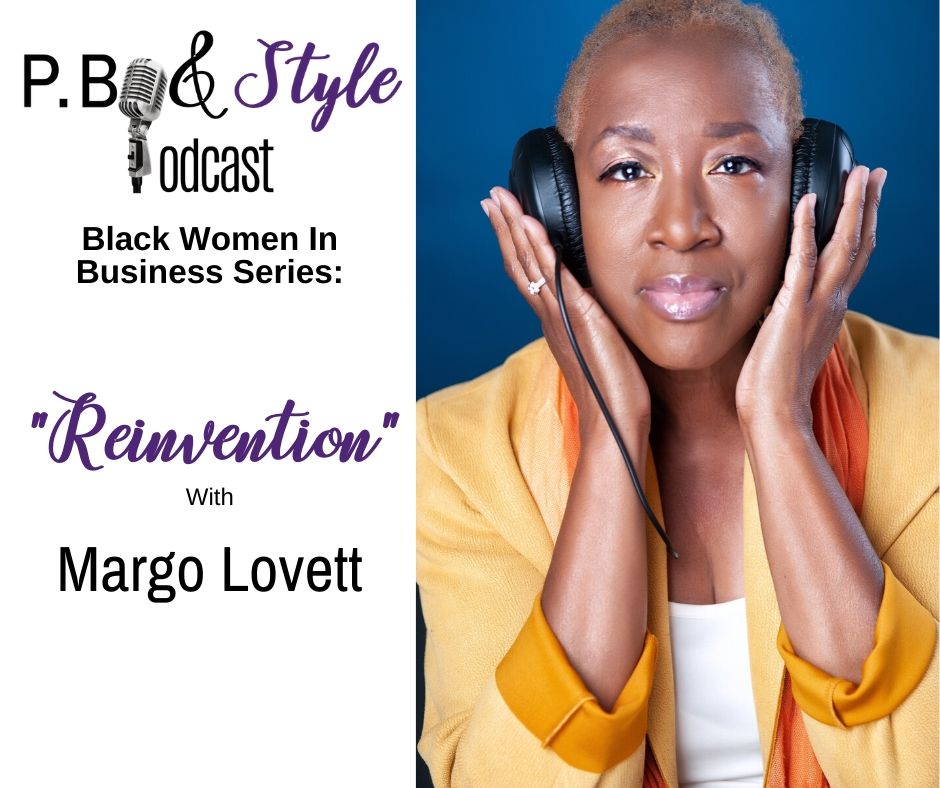 The next few weeks I'm doing a series called, "Black Women In Business".  I'll be talking to women who have successful businesses and they will be sharing entrepreneurial journey's and the obstacles they faced as black women in business.  I'll be sprinkling a few solo episodes in there (because I am one of many black women in business…lol), but you're in for a treat with the interviews I have lined up.  With it being the beginning of the year, I thought my first interview should be with someone who focuses much of her content on reinvention. She's a fellow podcaster too.
In the world of podcasting, the name of the game is to speak your truth. My guest today not only speaks her truth in her own podcast, "Her Business – Her Voice – Her Conversation", but she also shares her tips and knowledge about HOW you can do the same through the act of reinvention. Margo Lovett is like a lot of the black women in business I know. She is a power house!
In addition to being a podcaster, Margo is an award winning author.  Her book, "Her Business Her Voice Her Reinvention", was launched in 2017 and shortly followed by an anthology – "Women Inspiring Nations" launching in January of 2018. Margo has appeared in many publications, including The Huffington Post. Her energy is contagious, that's why I'm so excited to talk with her today.
Listen to our conversation and hear how, with a change of our mindset, we can reinvent ourselves and get to what we truly love in life.
---
WHAT YOU'LL LEARN:
What REINVENTION requires.
How you may know a reinvention is a good idea
What Margo means by "identify relevant opportunities and content for your connections"
Where to begin the reinvention process
Common mistakes made when one decides to reinvent themselves
Margo's special offer for you
What bad beliefs prevent people from seizing their reinvention opportunity
The relationship between a personal reinvention and one's entrepreneurial journey
---
CONNECT WITH MARGO: 
BOOK A CONSULTATION FOR SPECIAL OFFER: https://margolovett.com/consultation-appointment/
---
If you liked this episode, you should listen to these: 
https://andreapatrick.com/podcast/pbstyle/process-pivot-plan_leadership/
https://andreapatrick.com/podcast/pbstyle/manifest-your-dreams/
---
LEAVE A PODCAST REVIEW/COMMENT