In the spirit of NOT BEING all things to ALL people, I bring you this podcast episode today. For years, I've shared my passion for the importance of defining who YOU are and with confidence and certainty, OWNING your value.  It's important to me because I know how it feels to undervalue yourself and be fearful that you won't be good enough.
I learned better and it's my mission to help others learn the lesson as well.  In this article from Entrepreneur.com, 7 Steps To Defining Your Niche, the writer mentions 5 qualities of a defined niche:
It takes you where you want to go—in other words, it conforms to your long-term vision.
Somebody else wants it—namely, customers.
It's carefully planned.
It's one-of-a-kind, the "only game in town."
It evolves, allowing you to develop different profit centers and still retain the core business, thus ensuring long-term success.
Defining a niche can seem scary. I realize, if the objective is to make money… it is daunting to think you'd miss out on making it if you narrow your playing field to do so.  I know it seems counter productive, but I promise you… getting in front of the people who actually WANT what you're selling is better than casting a wide net and having a bunch of curious people who have no intentions of buying (or changing).
My guest in this episode of P. B. & Style is Ms. Takiyah Noble. She just fascinates me.  I have to admit, when we first met, I wasn't quite sure about how our personalities would align, but I am happy to say I am such a fan now and I know after listening to this podcast interview you'll see why.
Takiyah is so passionate about her area of expertise, it's infectious. What I love most about her, is her UNAPOLOGETIC viewpoint and ability to make me think HARD about what she says. She makes me want to do better. I would definitely qualify myself as being a part of her niche market and look forward to hearing more from her!
Whether you agree with her opinions or not, she has proven that defining your niche is a great way to put your value proposition to good use and as polarizing as her perspective may be, it's hers and she's brave enough to put it out there.  For that, I believe she deserves the utmost respect…I'm confident you'll have the same opinion after listening.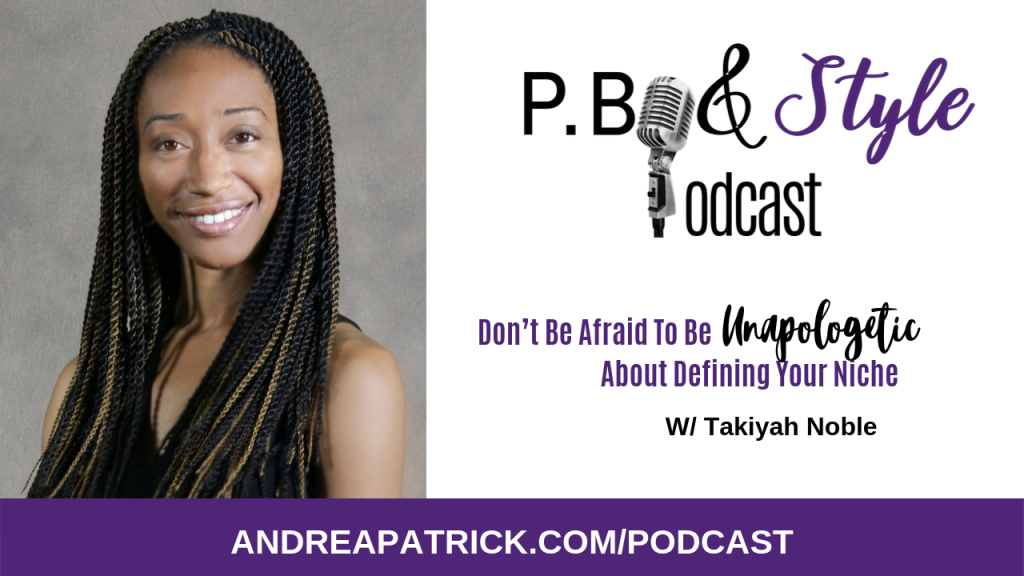 During this interview you'll:
Learn the definition of a Minimum Viable Audience
Learn the litmus test for the WeKonomist Magazine (You'll love her content "buckets")
Learn what Takiyah says is "as unique to America as apple pie"
Learn what conversation ALWAYS leads to race in America
Hear a NON-POLITICAL political exchange
Don't struggle with your certainty and confidence. I want you to BE THE BRAND and define a niche that takes you where you want to go. My Hwy 8: The Road To Your Inner Influencer FREE Video Course can help you with this.
START THE COURSE TODAY!

For more on

WeKonomist

, visit the website and become a loyal subscriber HERE!