It's time to leverage your personal brand!
Last week, I talked about "Giving yourself permission to do something different to get a different result..". For me, this meant tightening up my marketing strategies and streamlining my products/services and systems. What did you give yourself permission to pivot? Are you on a journey to doing something different to get a different result?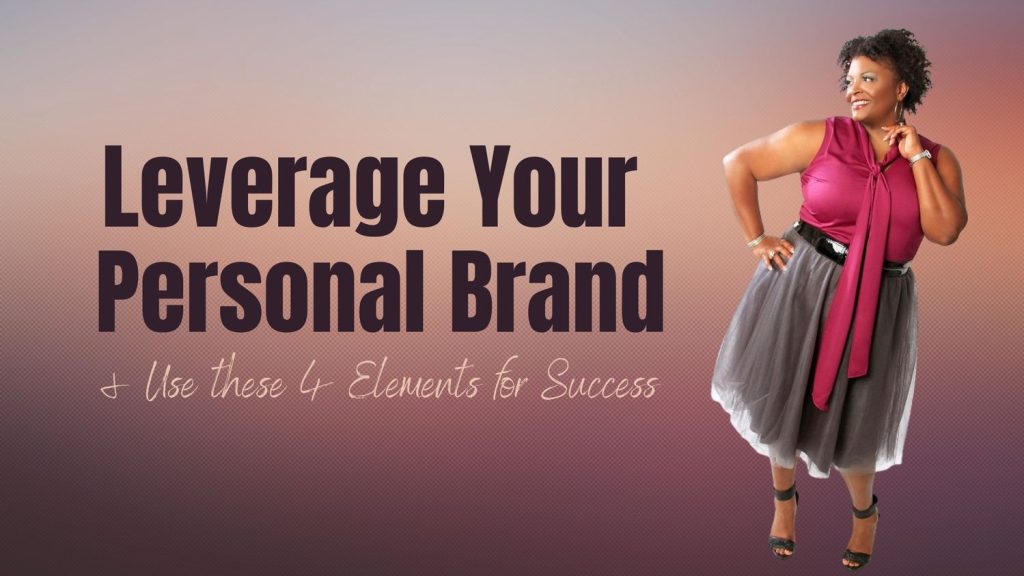 My years in business have taught me a very important lesson. If you want to be successful in building a strong foundation for your business, you have to have leverage your personal brand and put these 4 elements in place.

You'll need:
A TRUE WHY and the ability to leverage your personal brand
SYSTEMS to help get everything done and help you stay sane
CONTENT to distribute and build credibility
STRATEGIES to create a pleasant customer experience
Sometimes you can manage these elements on your own and sometimes you need to seek the guidance of professionals. You may understand these elements in principal, but have no idea how to leverage your personal brand and optimize your efforts. When you take a good look at the influencers in your space, you can bet they have that's exactly what they're doing.
TIMELESS… that's what these elements are. It's what makes leveraging your personal brand so valuable. It's the gift that keeps on giving. When it comes to attracting, engaging and converting the right audience… preparing for and implementing ALL of them will consistently get the job done. You may be struggling with growing your email list or you may find it difficult to generate leads. On your own… without the right skills, it could be time consuming and frustrating.
I know what it's like when you need help and wish you had a team of people to help you make decisions.
I understand how frustrating it is when you know what needs to be done but you don't have the bandwidth to do it. Ugh! I hate it! It wasn't until THIS YEAR that I was able to get some help, praise God!! I had to leverage my personal brand (i.e. know what I needed and how I needed it — apply my likes, dislikes, and non-negotiables to the way I do business), to find the right V.A. match for me.
How much would you give to have a support system? Wouldn't it be great to have people to help you think through problems and give you sound advice. Shoot… just having someone that can relate to your fears and hesitations would be an improvement, right?
I started this blog post talking about the 4 things that I think every business owner needs to be successful. If you want to build a team in 2021, knowing your true value, how to leverage your personal brand and how to create systems is extremely important. You to create procedures and systems that are easily duplicated.
Are you still DIY-ing your business growth? Are you tired of doing the same ole, same ole? If you answered "Yes" it's time for a change. Surrounding yourself with like-minded people is the way to go. When I say surround yourself, I don't just mean calling your buddies or hopping on a Zoom networking event (thanks Covid). I mean something like a mastermind that requires a little more commitment on your part. Masterminds can be very expensive though. If you're just starting your business or if this horrible pandemic has you struggling to keep your head above water, they're probably out of the question. I get it.

That's why I'm starting The BU Boss Squad. I wish someone had given me an opportunity like this when I first started. If I knew then what I know now, I would have jumped at the chance to join a group like this. It's not easy to spend money on your business in the beginning, I understand. Looking back though, I wish I would have taken advantage of the chances I had to take the help while it was being offered.
Is that you? Do you need to take the help while it's being given? Get off the hamster wheel… be a part of my squad. The BU Boss Squad!