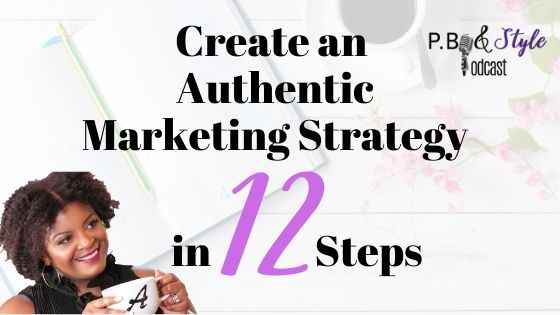 Leadership is a journey and along the way life, overwhelm, and anxiety happen.  If you're new to business, struggling with an existing business, or just afraid to get started…this podcast episode is for you.  Having a marketing strategy is the best way, I've found, to organize the growth of your efforts business.  A strategy is the art of devising or employing a plan to achieve a goal.  If the goal is to build a successful business and marketing is what attracts your target audience to your business THEN….
A marketing strategy should be at the top of your list of things to get right…right?
Throughout your business, there will be opportunities to create multiple marketing strategies because it depends on the campaign you're running at the time.  For the sake of this episode AND any future marketing campaigns… I want to concentrate this episode on how to build an AUTHENTIC marketing strategy for those campaigns.
---
Don't be left wondering what in the world to do next in  your business or for your business… Reach out to me! I'd be happy to do a 30 minute discovery call with you FOR FREE!  My goal is to help as many people as possible in 2020 and it starts with a simple phone call.  Are you ready?  I am.. Contacting me is as easy as 1-2-3… Use THIS LINK to book your discovery call TODAY!
Is that to forward of me.. to ask you out on a phone date?  Okay, here's another way you can begin a new journey in your business.  Overcome the overwhelm with my book, The BTB Business Journal.  In it, you'll find valuable information, guidance, tools, and challenges to make sure you're in the right space to do business authentically for increased engagement and conversions…. Be sure to leave a review on Amazon when you're done!
---
During this episode you'll learn:
My tips for creating an authentic marketing strategy
How I use a marketing strategy to create my content
The importance of building a community as part of your marketing strategy
Why your marketing strategy should come from an authentic place
AND MORE…
---
IF YOU LIKED THIS EPISODE, LISTEN TO THESE: