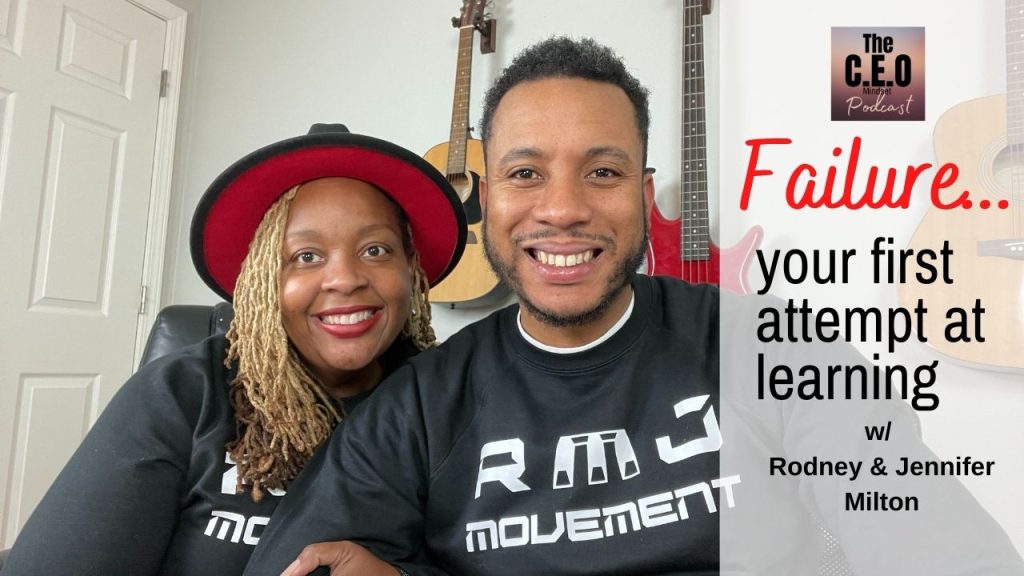 Rodney and Jennifer Milton are familiar with the saying, "Failure, your first attempt at learning".
Jennifer talks about it during our interview.  I was so excited to chat with this musical power couple because they are a great example of overcoming limiting beliefs and perceived failure. During this horrible pandemic, this talented duo overcame their circumstances and produced an amazing project. Jennifer's christmas songs, on instagram, touched the hearts of so many during the holiday season but this year's performances were for a much larger accomplishment.  Rodney and jennifer launched an album in the process.
Failure isn't sticking around with these two… As the founders of RMJ Movement, they've turned a love of music and Christ into performances and products that bring a special joy and empowerment to all who experience them. Rodney and Jennifer perform all styles of music, from Jazz, R&B, and Neo Soul but found a home in Gospel.  They believe music is one of the best ways to bring people together and spread joy.
we can be excited about the two projects they have right now: the single "Sunday Best" and a Christmas Album "Christmas Memories".  With Rodney as producer and arranger, they continue to bring music that stirs the soul but makes you want to move.
YOU'LL LEARN:
Their journey to overcoming limiting beliefs

How they stayed motivated during a pandemic

How to put a positive spin on failure

How they demonstrated a C.E.O. Mindset through it all
GET TO KNOW

THE MILTON'S:
---
LET'S GET SOCIAL:
LET'S GET TO WORK:
To get started with a more personalized approach to your marketing efforts I've got TWO very simple, very FREE options:
If you're read to GET TO WORK… you should 

GRAB my book, The BTB Business Journal

.

It's full of information, tools, worksheets, challenges and more. If you're a self starter and can get thing done on your own, it's a great way to tap into your personal brand then leverage it EVERYWHERE!