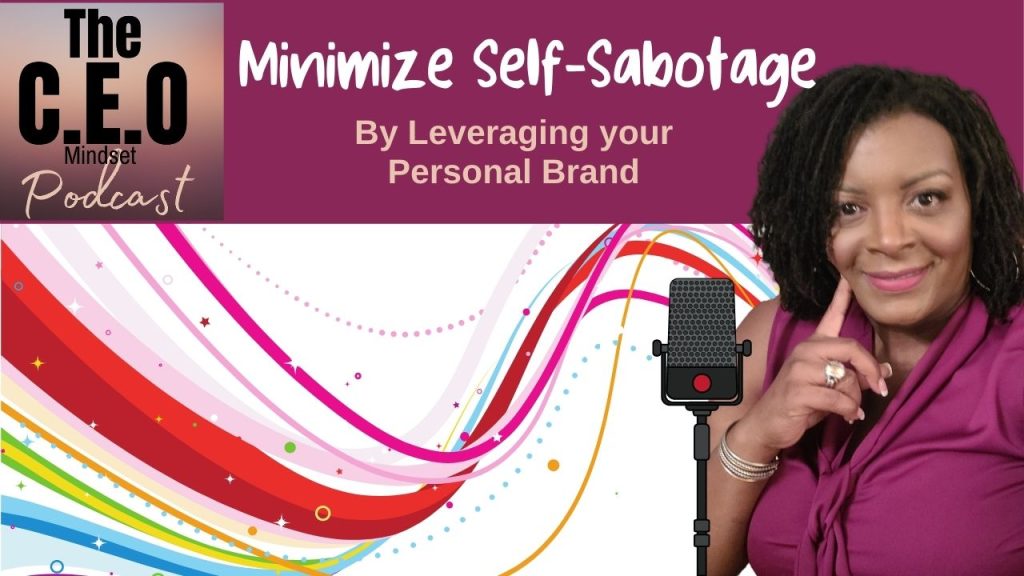 Now that 2021 is here, it's time to minimize self-sabotage by leveraging your personal brand. I'm going to talk about how I did it in this week's episode of The CEO Mindset Podcast.  If you find you're constantly finding yourself on a rollercoaster of highs and lows in your business, it could be because of self-sabotage.  You may not even recognize it.  Did you know PROCRASTINATION is a form of self-sabotage?!?!
We always talk about it as something that keeps us from being productive, but have YOU ever thought of it as something you're doing to sabotage your efforts? I didn't until I read an article about it.  One thing I've realized is, our baggage plays an integral part in our successes and failures. Prior to recording this podcast I had a phone call that upset me a bit.. You know, the kind of upset that only those closest to you can evoke in you.  After that call, I was reminded of how I've allowed the person on the other end of that call to affect the HOW & WHY I do certain things.  When I hadn't recognized the connection (pre-epiphany), I allowed that influence to determine my decisions and actions.  It wasn't until I did the work and started to recognize the triggers that I was able to see how self-sabotage was playing a role in my life.
Listen and then answer the CEO QUESTION of the Day:
How have you been self-sabotaging your goals?
---
LET'S GET SOCIAL:
LET'S GET TO WORK:
TO GET STARTED WITH A MORE PERSONALIZED APPROACH TO YOUR MARKETING EFFORTS I'VE GOT TWO VERY SIMPLE, VERY FREE OPTIONS:
IF YOU'RE READ TO GET TO WORK… YOU SHOULD GRAB MY BOOK, THE BTB BUSINESS JOURNAL. IT'S FULL OF INFORMATION, TOOLS, WORKSHEETS, CHALLENGES AND MORE. IF YOU'RE A SELF STARTER AND CAN GET THING DONE ON YOUR OWN, IT'S A GREAT WAY TO TAP INTO YOUR PERSONAL BRAND THEN LEVERAGE IT EVERYWHERE!