My Leadership & Personal Development Program Is Launching
"Project CEO"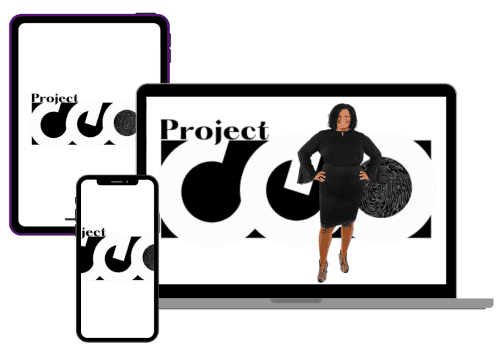 My leadership & personal development program, "Project CEO", is launching and I think you should check it out.
That's why I've devoted an entire episode of the podcast to sharing it with you.  Undeniably, there are many digital programs out there for leadership, personal development, marketing, and personal branding. The issue, as I see it, is they give you great lessons, worksheets, and a promised outcome based on WHAT THEY GIVE YOU.  My program is different. Firstly,  it gives you the benefit of my journey.
Secondly, my "BU" Method is based on my personal experiences and the strategy I used to create a work/life harmony.  Balance is a pipe dream, in my opinion. Obviously, as a wife and mother, I want my family to feel they are my priority. Lastly, that's why I put systems and processes in place that align with who I am and what I know I need to do and be my best.  Believe it or not, personal branding and my personal framework were the foundation I created to make this possible.
Listen as I go through the six phases of this program.  I'm giving you a sneak peak into the personal discovery, mindset shifts and personal adjustments that will happen. Furthermore, it's worth mentioning my philosophy on the stages of entrepreneurship.  Above all, accessing the CEO in you unlocks the unapologetic authenticity that makes that work/life harmony I talked about earlier possible.
In this episode, you'll learn about the six phases of Project CEO:
ONE:

An introspective journey

TWO:

Discover what drives you

THREE:

Exploration of the vital elements of success

FOUR:

Communicate clearly & teach others how to treat you

FIVE:

Create a cohesive identity

SIX:

Accepting Your CEO Status
I APOLOGIZE IN ADVANCE FOR THE AUDIO… THIS WAS A "DONE IS BETTER THAN PERFECT" MOMENT:-)
---
Are You Looking For A Community of Like-Minded People?
Firstly, join us inside my community, The BTB Boss Talk.  It's a community of BOSSES, just like you.  Accordingly, I am confident the BTB Boss Talk family will be a place where you are encouraged, motivated, inspired, and held accountable.  Join us so you can achieve things you never thought possible.
Wanna Go Over Your Personal Brand Plan?
Secondly, Book a Discovery Call TODAY!! Learn more about my community and/or the Done For You services I provide through my marketing agency, Marketing Matrix Agency, LLC.
Also, listen to my audio file (available AFTER the confirmation email):
My 8 Step Strategy To Fortify Your Business & Eliminate the Competition
FINALLY, LET'S GET SOCIAL!!!
SUBSCRIBE TO THIS PODCAST
& leave a review!