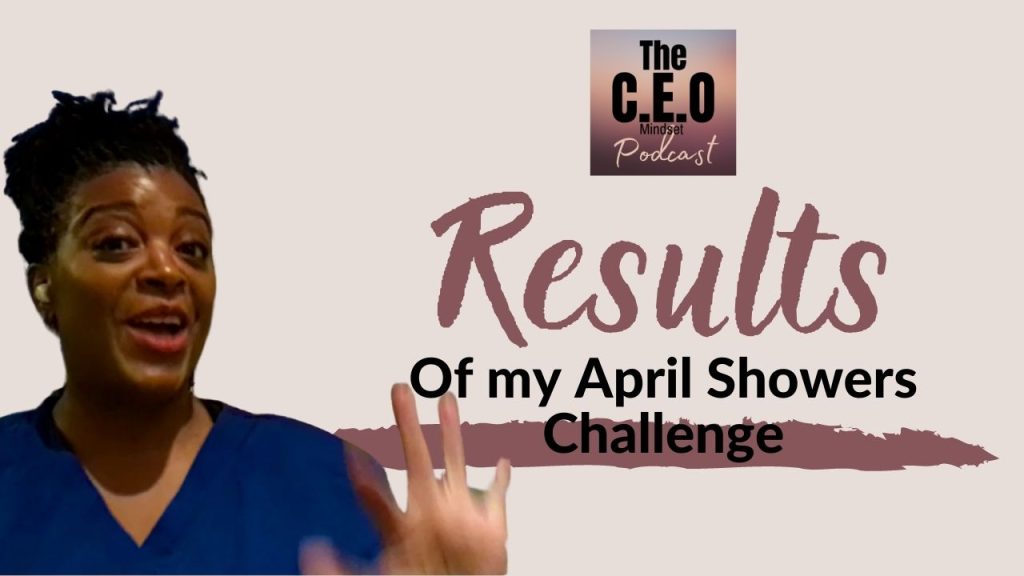 The results are in. See what happened during my April Showers Challenge.  I'm talking about what happened during the month of April in this episode. I challenged myself to do something different to get a different result and here are the results. The challenge was to change behavior that improved my mind, body, spirit, and business.
I'm fully aware it will take more than a 30 day challenge to change my behavior.  My goal was to jump start behavior change by doing something different to get a different result. Gretchen Rubin of Psychology Today wrote, "According to a recent study , a daily action like eating fruit at lunch or running for 15 minutes took an average of 66 days to become as much of a habit as it would ever become."  Is there something in you life that needs to change but you're too scared, stubborn, or unaware to get started?
I threw caution to the wind and took the leap of faith to make significant changes in my life. I encourage you to do the same. Listen to this episode to learn what happened and what I intend to do next.
---
Let's Get Social:
LET'S GET TO WORK:
Get started with a more personalized approach to your marketing efforts. I've got THREE very simple, very FREE options:
If you're ready to GET TO WORK… you could GRAB one of my books. They are full of information, tools, worksheets, challenges and more. If you're a self starter and can get thing done on your own, it's a great way to tap into your personal brand then leverage it EVERYWHERE!
My C.E.O. MINDSET Challenge and Authentic Marketing Blueprint MINI COURSE are tools many use as a catalyst to create effective marketing strategies.