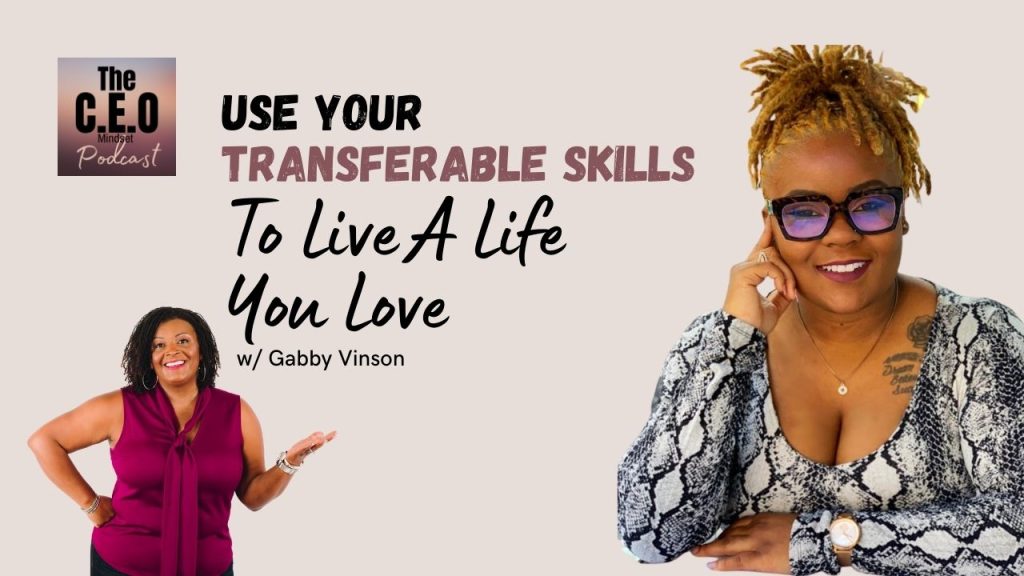 Listen and learn how to use your transferable skills to live a life you love.  By definition, a transferable skill is exactly what it sounds like.  It's a skill used in one job/career but can also be used somewhere else.  Gabrielle Vinson is sharing her experience with using transferable skills to live the life she now loves.  With the skills learned and honed in her early entrepreneurial journey, Gabrielle was able to use her education, business-building, sales experience and hustles build multiple streams of income.
If you are struggling with what to do next in your life, career or business, identifying your skill sets and how to transfer them is a definite step in the right direction.  This Forbes article lists 12 of the most important skills you need to be successful. Between this podcast and that article, you'll have what you need to live your best life too.
---
GET TO KNOW GABBY:
email: iamsavvygabby@gmail.com
Owner/Creator of Black Wealth Loading LLC, a brand that provides apparel and resources to help black men and women achieve their version of success and wealth.
IG: @blackwealthloadingllc
T-shirt shop: www.blackwealthloadingshop.com
Social media handles: @iamsavvygabby & @blackwealthloadingllc
(Evergreen) FIRST TIME HOME BUYER'S MANUAL: https://gumroad.com/l/Savvybuyer
---
Get Social w/ ME!!:
---
WORK WITH ME:
To get started with a more personalized approach to your marketing efforts I've got THREE very simple, very FREE options:
If you're ready to GET TO WORK… you could GRAB one of my books. They are full of information, tools, worksheets, challenges and more. Self starters love the material and use it to leverage their personal brand EVERWHERE!
My C.E.O. MINDSET Challenge and Authentic Marketing Blueprint MINI COURSE are tools many use as a catalyst to create effective marketing strategies.