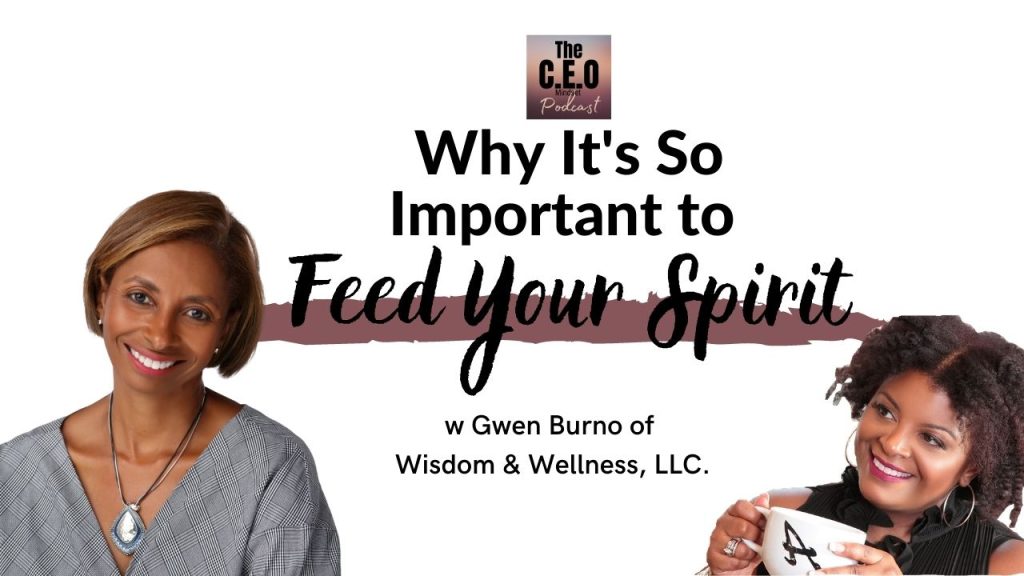 In this episode I want to share my thoughts on why it's so important to feed your spirit.  I am a believer so when I say "feed your spirt", I mean spending time with God and allowing His Word to fill me so I am able to give out of overflow. Gwen Burno, the founder of Wisdom & Wellness LLC, is my guest and she is sharing her expertise on what it means to feed your spirit.  Gwen's organization provides sound principles and strategies which equip others to pursue a well-ordered life. She is a biblical scholar and all around wealth of information.
I realize everyone isn't a believer, like me, but feeding your spirit is still important to the start of your day.  Oprah feels strongly about this as well and in this Oprah.com article, Martha Beck shares 6 Things You Need to Do To Feed Your Soul.  Your morning routine, and what you fill it with, is the catalyst for your day.  How you fill that time is extremely important for mindset and productivity.
GET TO KNOW GWEN:
GWEN'S OFFER: offer is 20% off the first session, if you schedule a discovery call and book a session. calendly.com/coachgwen/30min.
---
LET'S GET SOCIAL:
LET'S GET TO WORK:
To get started with a more personalized approach to your marketing efforts I've got THREE very simple, very FREE options:
If you're ready to GET TO WORK… you could GRAB on of my books. They are full of information, tools, worksheets, challenges and more. If you're a self starter and can get thing done on your own, it's a great way to tap into your personal brand then leverage it EVERYWHERE!
My C.E.O. MINDSET Challenge and Authentic Marketing Blueprint MINI COURSE are tools many use as a catalyst to create effective marketing strategies.