The conclusion of the 14 lessons I learned In 2021 is here.  The year 2021 is almost a wrap and it has been a fascinating ride guys! I can't believe how many lessons I learned this year.  The 14 I'm sharing in these last two posts were only the tip of the iceberg.
The lessons I learned are like planted seeds.  Some, I'll harvest next year and some will be harvested later but the end result is growth. When you listen to this episode, plant some of my seeds in your own entrepreneurial garden.  There is no reason the lessons I learned wouldn't yield fruit for you too.
Now that I've shared the lessons I learned in 2021, it's your turn.  Share some of your lessons with me.  Use the comments section below to leave your lessons AND a review of this seasons content…
Thank you for listening, sharing, and commenting… I can't wait to bring you even more helpful tips in our 2022 season.
LISTEN TO PART ONE: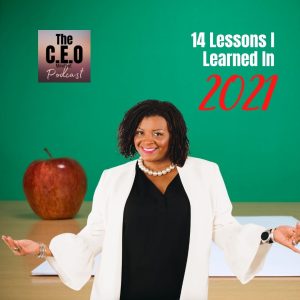 ---
LET'S GET SOCIAL
LET'S GET TO WORK:
To get started with a more personalized approach to your marketing efforts I've got THREE very simple, very FREE options:
If you're ready to GET TO WORK… you could GRAB one of my books. They are full of information, tools, worksheets, challenges and more. If you're a self starter and can get thing done on your own, it's a great way to tap into your personal brand then leverage it EVERYWHERE!
My C.E.O. MINDSET Challenge and Authentic Marketing Blueprint MINI COURSE are tools many use as a catalyst to create effective marketing strategies.
PIN THIS EPISODE