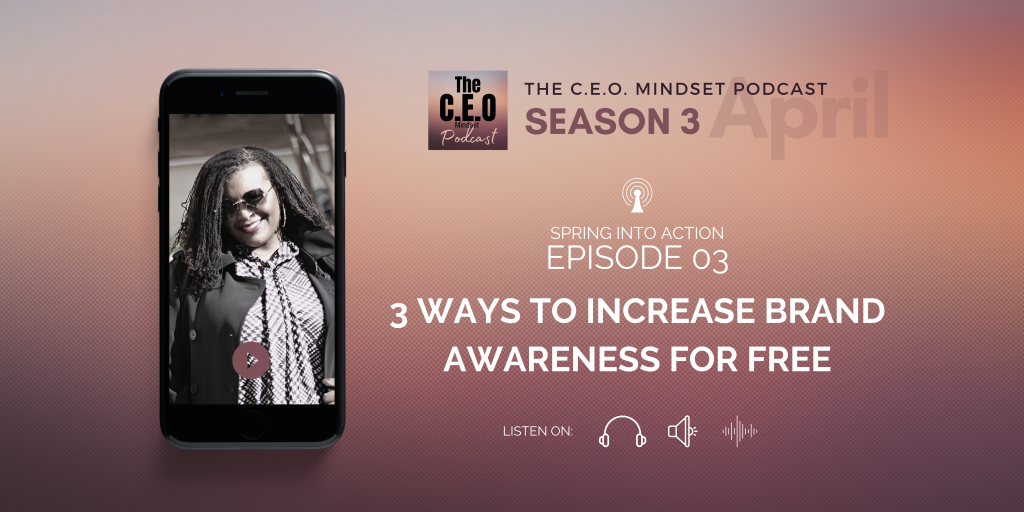 The 3 ways I'm sharing in this podcast to help you increase your brand awareness MIGHT surprise you.
Have you noticed the "PAY TO PLAY" mentality has increased?  It's getting harder and harder to gain brand awareness WITHOUT a hefty budget.  I'm still struggling with investing money into ads.  I know it's advantageous in some aspects of my business, but I believe in doing ORGANIC options for as long as possible before I take that route.
In this episode of The C.E.O. Mindset Podcast, I'm sharing 3 ways to increase your brand awareness for FREE.  Remember, sometimes you have to change your mindset or do something different to get a different result, if you want to gain traction in your business.
SPEAKING OF DOING SOMETHING DIFFERENT TO GET A DIFFERENT RESULT…..
I want to share my new signature program with you.  I'm currently offering the opportunity for you to make reservations to join my very first webinar!  By doing so, you'll get some perks that won't be shared ANYWHERE else.  It's as simple as making reservations and attending the webinar.
---
Let's Get Social:
LET'S GET TO WORK:
Make your marketing efforts more Personal. I've got THREE very simple, very FREE options:
If you're ready to GET TO WORK… you could GRAB one of my books. They are full of information, tools, worksheets, challenges and more. Use these books to tap into your personal brand and then leverage it EVERYWHERE! My membership group, The B-U Boss Squad, is perfect for accountability and support!
My C.E.O. MINDSET Challenge and Authentic Marketing Blueprint MINI COURSE are tools many use as a catalyst to create effective marketing strategies.