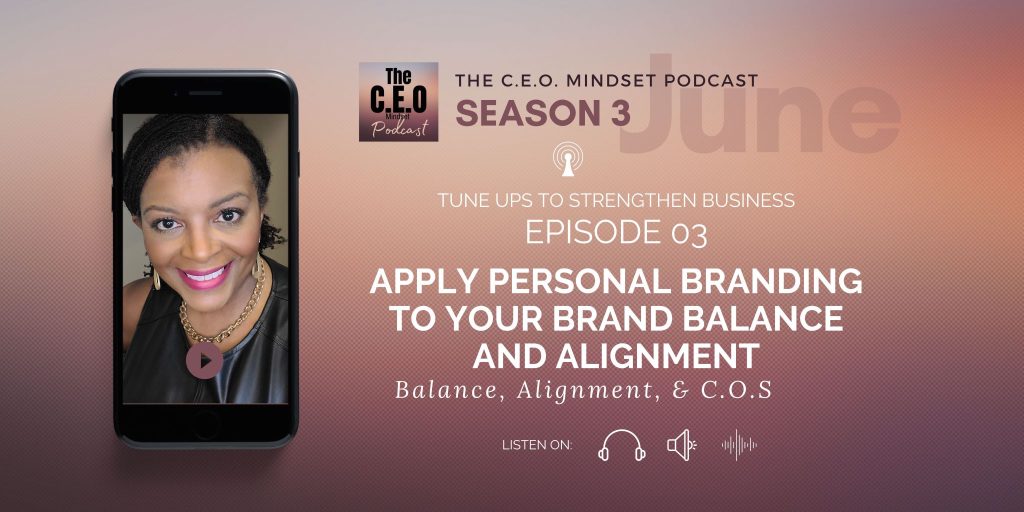 Balance, alignment, and a plan for success are definitely a part of a mid-year brand tune-up.  Prevent abnormal wear and tear on your business with a six month checkup of these areas. Make your entrepreneurial ride smoother with better balance, more alignment, and by creating circumstances for optimal success.  The world is getting crazier and crazier, and it will suck us up if we don't have a system.  The systems we create will help to recenter us. We can stay connected to our WHY and set ourselves up for success.
Did you know 90% of startups fail!!! Wow, that's a huge number.  There are a myriad of reasons this happens. I bet a lack of balance, alignment or NOT creating circumstances for optimal success, factor into the majority of them. The question I have for you is this: what would business look like if we had a way to find balance, stay aligned, and do our best in every situation?
Explore with me as I discuss this very topic in this week's podcast episode.  This month (JUNE 2022) I'm doing a series to cover mid-year brand assessments.  I'm sharing my tips to maintain a positive brand growth experience. Your experience and a positive customer experience for your target audience are important.  I'd love to hear your thoughts so be sure to leave a review/comment below and don't forget to follow me over on my YouTube channel because I'm contributing to the June-Up series with tips to do a personal branding tune-up that could increase your sales!
---
LET'S GET SOCIAL:
SUBSCRIBE TO MY CHANNEL
LET'S GET TO WORK:
Make your marketing efforts more Personal. I've got THREE very simple, very FREE options:
If you're ready to GET TO WORK… you could GRAB one of my books. They are full of information, tools, worksheets, challenges and more. Use these books to tap into your personal brand and then leverage it EVERYWHERE! My membership group, The B-U Boss Squad, is perfect for accountability and support!
My C.E.O. MINDSET Challenge and Authentic Marketing Blueprint MINI COURSE are tools many use as a catalyst to create effective marketing strategies.
PIN THIS EPISODE!