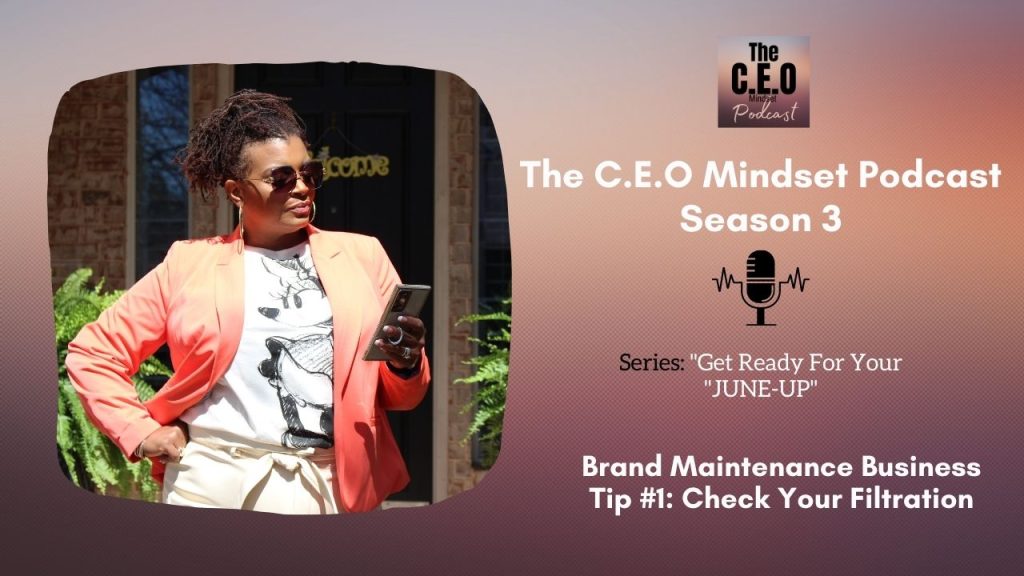 Are you ready for your "June-Up"? Brand maintenance business tip #1 is to check your filtration. The rule of thumb for car maintenance is to have tune up every 3-6 months.  You should do BRAND MAINTENANCE just as often.  With June being the halfway point in the year, it's the perfect time to kick the tires of your business and make sure you're good to go for the rest of the year.
I've got 4 areas I'll be looking at during my June podcast series: "Get Ready For Your June-Up".  I'm starting with your FILTRATION SYSTEM, or as I like to call it, your PERSONAL FRAMEWORK.  You won't believe how constructing one for yourself will be the #1 business tip that adds structure to your business for the rest of the year.
---
THESE VIDEOS WILL BE QUITE HELPFUL FOR THIS WEEK'S CHECKUP AREA:
---
LET'S GET SOCIAL:
LET'S GET TO WORK:
Make your marketing efforts more Personal. I've got THREE very simple, very FREE options:
If you're ready to GET TO WORK… you could GRAB one of my books. They are full of information, tools, worksheets, challenges and more. Use these books to tap into your personal brand and then leverage it EVERYWHERE! My membership group, The B-U Boss Squad, is perfect for accountability and support!
My C.E.O. MINDSET Challenge and Authentic Marketing Blueprint MINI COURSE are tools many use as a catalyst to create effective marketing strategies.
Pin This Episode