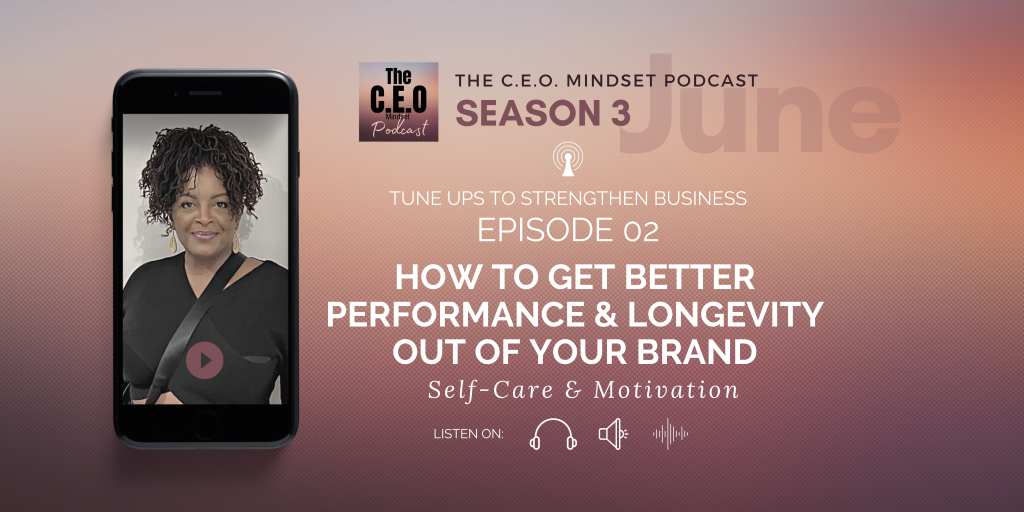 Have you ever wondered how to get better performance & longevity out of your brand? Lately, I have been working on being even more efficient and streamlining some of my systems. I found work was so much easier after I had SERVICED by brand.
This month (JUNE 2022), I'm doing a series called "Get Ready For Your June-Up". My podcast is covering the areas of maintenance to strengthen your business and my YouTube videos are covering areas of maintenance to increase sales. If you haven't subscribed over there, you can do so HERE!
I truly believe constructing a personal framework is key to a great Self-Care routine. Setting boundaries, creating a safe place, and being able to label your emotions is so much easier when you've established the root of your reasons for needing them in the first place. I go into detail about what a personal framework is in this video, check it out.
As we continue with the car maintenance metaphor, this week we are talking about 2 of the most important area to check up on:
The Battery AND
The Car Fluids
In the case of using personal branding tips to do maintenance on your brand, we're equating your batter to SELF-CARE and car fluids to your MOTIVATION habits. Your personal brand isn't just about putting your pretty/handsome face on your website or on social media posts. When you put the "ING" behind it, you give it license to act! Listen to this week's podcast to June-Up your business and get better performance and longevity out of your brand.
REGISTER FOR MY WEBINAR
---
LET'S GET SOCIAL:
LET'S GET TO WORK:
Make your marketing efforts more Personal. I've got THREE very simple, very FREE options:
If you're ready to GET TO WORK… you could GRAB one of my books. They are full of information, tools, worksheets, challenges and more. Use these books to tap into your personal brand and then leverage it EVERYWHERE! My membership group, The B-U Boss Squad, is perfect for accountability and support!
My C.E.O. MINDSET Challenge and Authentic Marketing Blueprint MINI COURSE are tools many use as a catalyst to create effective marketing strategies.
PIN THIS EPISODE!