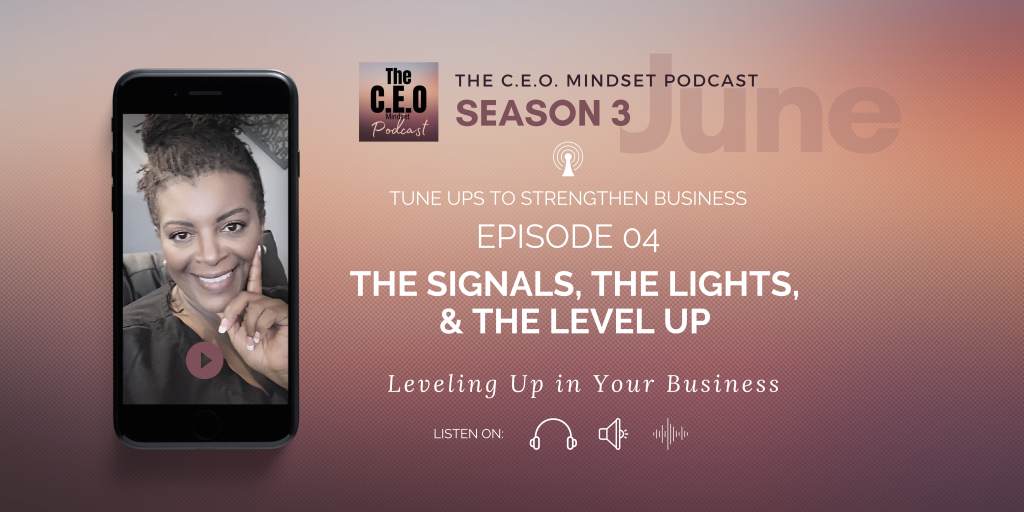 Signals, lights, and level up…oh my!  We're finalizing the Mid-year tune up that can strengthen your business.
This week we are continuing with the car tune up analogy. A car uses lights, signals, and other indicators communicate your intentions to other road users. Similarly, your brand has similar signals and lights that should be communicated clearly.  Communicate your intentions, your needs, your calls to action and your offers clearly and effectively. When done right, it will be easier to strengthen your business and attract the right customers.
It is important to think about the customer's experience and put them at the forefront of your brand strategy. To attract the right customer however, directions need to be given, expectations need to be managed, and goals need to be set.
In this episode, I'm sharing my thoughts on how setting goals, creating strategies and managing expectations act as the signals, lights, and indicators that strengthen your business.  
LET'S GET SOCIAL:
LET'S GET TO WORK:
Make your marketing efforts more Personal. I've got THREE very simple, very FREE options:
If you're ready to GET TO WORK… you could GRAB one of my books. They are full of information, tools, worksheets, challenges and more. Use these books to tap into your personal brand and then leverage it EVERYWHERE! My membership group, The B-U Boss Squad, is perfect for accountability and support!
My C.E.O. MINDSET Challenge and Authentic Marketing Blueprint MINI COURSE are tools many use as a catalyst to create effective marketing strategies.
PIN THIS EPISODE