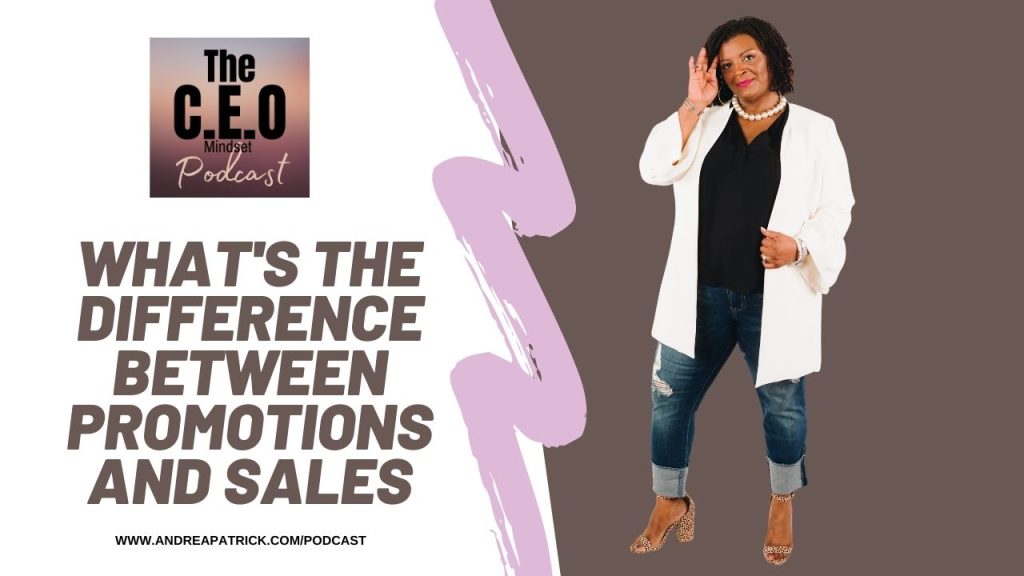 What's the difference between promotions and sales?  I'm so glad you asked because in this episode of The C.E.O. Mindset Podcast, that's what we're talking about.  Did you know:
84% of people expect brands to create content. About 45% of B2C marketers believe visual content is their most important type of content, while 88% of B2B marketers agree that creating content makes their audience view the organization as a credible and trusted resource.
This means the majority of customers are more interested in valuable and credible content than aggressive sales tactics.  The difference between promotions and sales may not be clear right now, but I promise you'll have it down pat after listening to this weeks episode.
As you learn more about how to leverage your personal brand, the difference between promotions and sales will become clearer and clearer. You'll find the entire sales process easier to navigate.  For more on leveraging our personal brand, listen to these episodes as well:
When you master the difference between promotions and sales, you'll begin seeing more engagement and higher conversions from you marketing strategies.  The most common measurement of success for content marketing programs is Total Sales.  So you see, your content is what helps to promote your product or service.  I think this proves the difference between promotions and sales but, listen to the podcast anyway.
---
Let's Get Social:
To get started with a more personalized approach to your marketing efforts I've got TWO very simple, very FREE options:
If you're ready to GET TO WORK… you should consider The BU Boss Squad.  It's my monthly membership that inspires, encourages, and motivates women to go after and achieve their dream.  You can also:
These are all excellent ways to invest in yourself and your business without taxing your marketing budget.  If you're a self starter and can get thing done on your own, these options are a great way to tap into your personal brand then leverage it EVERYWHERE!