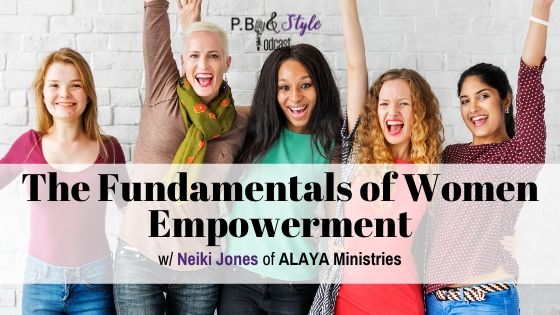 Today we are talking women empowerment!
Neiki Jones is my guest.  She had a dream to build a unique outreach organization committed to recognizing, nurturing and supporting leaders of the past, present, and future. Her vision was realized with the launch of A.L.A.Y.A. Ministries a 501 © (3) organization, dedicated to helping individuals who are struggling with identifying the purposed leader buried deep within them. Her personal struggle with self-worth resonates with many young women and men in our communities today. Neiki freed herself from the bondage of self-doubt and built this organization to share with everyone three basic principles that will liberate, heal and deliver the leader in each of us.  The three basic principles are Embrace, Empower and Exalt.
Women empowerment is the topic of this podcast. If you're in a place where you need a little encouragement, feel led to be an encouragement or you're just somewhere in between.. this podcast episode for you.
Women Empowerment is the process that creates power in women over their own lives, society, and in their communities. Women are empowered when they feel confident/certain about their abilities and are able to access the opportunities available to them without limitations and restrictions.  During this conversation about women empowerment, you'll hear:
How to recognize symptoms that someone may need support
Benefits of finding support
Why you should consider giving back
---
MEET NEIKI:
Facebook: @alayaministries
Instagram: @neikij
Website: https://www.alayaministries.org/
LinkedIn: https://www.linkedin.com/in/neiki-jones-461b4734/
---
To get started with a more personalized approach to your marketing efforts I've got TWO very simple, very FREE options:
First, I'll be expounding on today's topic inside my Facebook Group, THE BTB BOSS TALK so be sure to request access there. I will have the link below in show notes. I definitely want you involved in THAT conversation. That's also where ALL my guests will be popping in from time to time to offer EVEN more tips for you. Quiet a kept, that's where I've also started exclusively sharing my extra goodies and giveaways.
Second, you can grab my FREE online Video Series: "Hwy 8: The Road to Your Inner Influencer": https://andreapatrick.com/hwy8videos (NEW NAME/REBRANDING COMING) —> The BE THE BRAND Blueprint: a step by step guide to authentic personal brand development with tips for significantly increasing your social media engagement and conversion rates.
You can find the links to both in the show notes below.
If you're ready to GET TO WORK… you should GRAB my book, The BTB Business Journal. It's full of information, tools, worksheets, challenges and more. If you're a self starter and can get thing done on your own, it's a great way to tap into your personal brand then leverage it EVERYWHERE! https://amzn.to/30mQavz
---
If you love this episode, you'll REALLY love these: